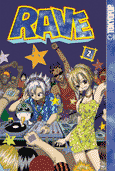 Volume 2
Released 4-15-03
Chapter 5: Travel Trouble!?
Chapter 6: Dead or Alive
Chapter 7: Revenge as a Trio!
Chapter 8: The Magic of a Smile
Chapter 9: The Legendary Blacksmith
Chapter 10: The Wandering Fallen Angel
Chapter 11: From the Broken Door
Chapter 12: The Inheritance
Chapter 13: The Bride of Promises
Bonus Comic: Rave 0077-Levin Minds the House #2 Mom and Dad

What a way to start a quest! No sooner did Haru Glory accept his destiny as the new RAVE Master, than his sword, the legendary Ten Powers, shattered into a thousand pieces after fighting his first enemy. Then he's gotta deal with the dognapping of his faithful companion Plue, and a new 'friend,' who turns out to be Elie, a hot-headed amnesiac tomboy who may just turn out to be Haru's last best hope ...
Volume 1/Volume 2/Volume 3/Volume 4/Volume 5/Volume 6